The Leonard Florence Center for Living in Chelsea, MA, is the first and largest residence of its kind in the country that allows people living with ALS and MS to receive skilled nursing care in a nurturing home environment. Thanks to cutting-edge assistive technology, the 30 individuals with these diseases who call LFCL home are able to live their lives independently and with dignity. It is a special place, and each year, a special event raises nearly $150,000 to support it.
Due to the threat of the ongoing COVID-19 pandemic, this year, the 13th annual ALS & MS Walk for Living will be held virtually on Sunday, October 17. SimpliHere connected with Maura Graham, director of Walk for Living, to learn more about this meaningful and beloved event.
Tell us about the Walk for Living this year.
Well, the walk is the one and only fundraising event we do, and this is our 13th year. COVID-19 has made things a bit challenging this year, but the walk is as important as ever to the Center. The event will be held virtually, but we are keeping our original date of October 17. We're encouraging participants to walk in their neighborhoods, on a treadmill, or on a local trail or track. We hope they will gather a team if they can, and help spread the word about the Center and our fundraising and community event. The walk usually raises almost $150,000.
What is the walk usually like—what do we have to look forward to next year?
Our walk is pretty special; it's a two-mile walk all through Admiral's Hill in Chelsea, MA, a beautiful route, and our LFCL residents will often participate. Even our ventilated residents will come out for the walk! Many of our employees live here in Chelsea, and they'll bring their children and participate. It is just such a fun, community and family event. It ends at the courtyard at the Center, and we typically have food, entertainment, dance performances, and face painting. We have had a lot of great in-kind donations by local businesses. We're so disappointed not to be able to do that this year, but we look forward to hopefully returning to an in-person event next fall.
Can you tell us a little about the Leonard Florence Center for Living that the Walk supports and celebrates?
The LFCL in Chelsea is a skilled nursing facility. We do long- and short-term care, rehabilitation, and we have 30 residences that are specifically equipped for our ALS and MS patients. The residences have all the technology our residents need to live as independently as possible, including specially designed residences for our vented patients. This includes movable ventilation equipment, lifts to get them in and out of bed, voice- and eye motion-activated equipment so our residents can independently open blinds, turn on TVs, adjust climate control, open elevator doors, and other things, and specially designed showers.
Some of our residents were sponge bathed before they arrived at Leonard Florence, they took their first warm shower in years. Every residence has its own dining room, fireplaced living room, open kitchen, outdoor space, and a mailbox and doorbell. There are so many simple things that we take for granted but that ALS and MS patients lose as their movement declines. At Leonard Florence Center for Living, we are able to give some of those things back to them. Our goal is to allow these people to live with dignity and independence and have high-level, specialized care. LFCL is very special because we care for the most patients with ALS in the world and under one roof.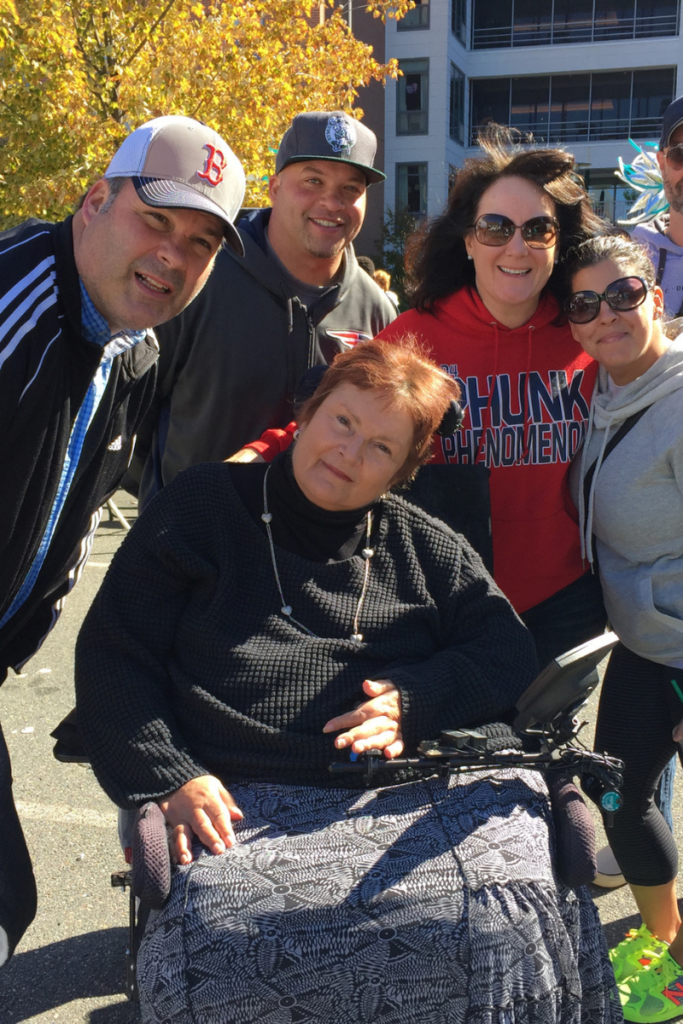 Why is the Walk for Living so important to the LFCL?
As you can imagine, running this facility costs quite a bit of money. Due to the high cost of cutting-edge technology and round-the-clock advanced care, operating these residences is extremely expensive. The expenses are funded partially by resident's health insurances, but the balance is covered by donations from Chelsea Jewish Lifecare, the non-profit organization that operates the Leonard Florence Center and by funds raised through the Walk.
People with ALS often think we should throw every dollar at research. In the meantime, though, there are plenty of people who are living with this disease, and we have to do something for them. This is the reality of ALS; people have to make the most of the time while they're here.
Philanthropy is key to our ability to provide this life-changing place for ALS and MS patients, and we have some wonderful, generous donors and sponsors, even this year as the event remains virtual. Every dollar we raise through the walk goes directly to the Center.
Can our blog readers still register for the Walk for Living?
Yes! Registration is still open. We hope you will join us!