At SimpliHere, we wanted to share some inspiration today…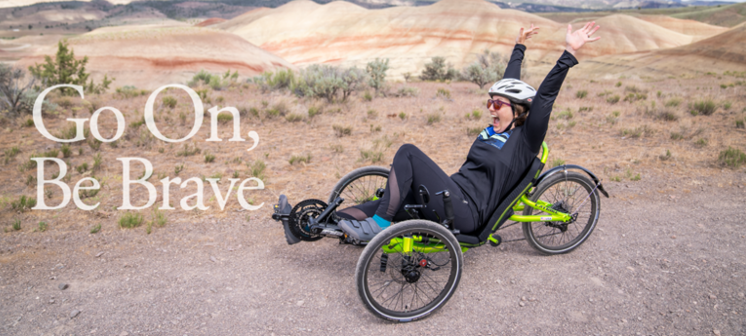 A new film, "Go On, Be Brave," is about Andrea Lytle Peet's race against time. After her ALS diagnosis, Peet, a lifelong athlete and triathlete, decided to attempt the impossible — she set a goal to become the first person with ALS to compete a marathon in all 50 states.
In this powerful and visually stunning documentary, produced by Miriam McSpadden and Brian Beckman as they followed Peet, her family, and her circle of friends over three years, Peet's story is told with authenticity and honesty, and shares hope for ALS patients and families and inspiration for athletes of all abilities.
Screened for the first time to the public at the 2023 Santa Barbara International Film Festival in February, the film was met with rave reviews — and two standing ovations. At the end of that world premiere, Peet rolled down the red carpet in her trike.
Additional screenings of the film are being planned nation-wide, including a June 2023 screening in Durham, NC. You can watch a trailer here.
Peet is also the author of a book called "Hope Fights Back," being published by Simon and Schuster. Peet's "love letter to life," the book chronicles her choice to live with hope instead of waiting for the end of her life.
About SimpliHere
SimpliHere simplifies caregiving for those impacted by ALS and other neurodegenerative diseases. Through a mobile app and personal voice assistant, patients and caregivers can easily communicate, manage daily life, and stay connected with one another. The mission of SimpliHere is to help patients and families face the overwhelming nature of ALS by helping them to communicate basic needs, easily reach caregivers, and find comfort with other individuals sharing the same challenges. SimpliHere encourages patients and families to raise their voices and contribute valuable information to medical communities to help advance critical research on neurodegenerative diseases, including ALS – with the ultimate goal of wiping out the disease once and for all.