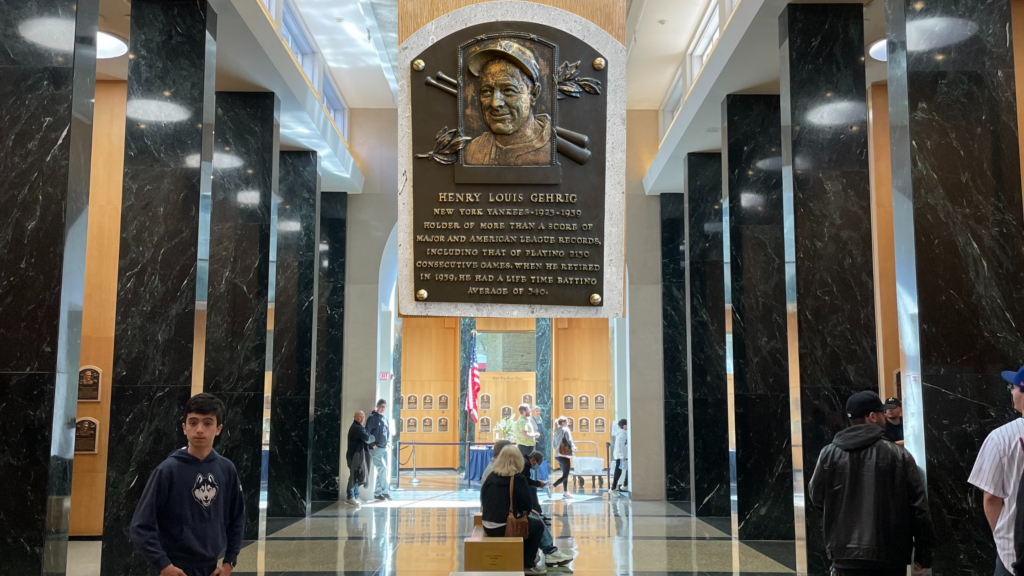 This past April, our family took a trip to the Baseball Hall of Fame in Cooperstown, New York — a destination that has been on my bucket list for a while now. Both my husband and son (13) are avid baseball fans; my husband particularly keen on baseball history and spent 30 minutes of our visit staring at an old glove from the early twentieth century.
Lou Gehrig, famously known as the Iron Horse, played baseball throughout the 1920s and 1930s, and had an incredibly successful career with the New York Yankees. Gehrig is featured prominently throughout the museum's many exhibits as a member of the early Hall of Fame inductee club.
The moment on our trip that stood out to me, however, occurred during the opening scene of the 17-minute film they screen each hour about the history of the Hall of Fame. The opening scene featured Gehrig's famous "luckiest man" speech announcing his 1939 retirement from baseball due to his ALS diagnosis. I don't think there was a dry eye in the audience.
The simple fact that makes Lou Gehrig's story so compelling is that he faced his ALS fate directly, refusing to let it take away all that he accomplished, and the good things he had in his life — a lesson for us all.
June 2 will mark the second annual Lou Gehrig Day. ALS Therapy Development Institute, the renowned nonprofit drug discovery lab focused solely on discovering and developing effective treatments for ALS, is marking the occasion by inviting all members of the ALS community to honor Lou Gehrig through a matching gift opportunity that is also a friendly competition.
ALS TDI has partnered with their friends at Playing Hardball Against ALS (PHAALS) Foundation to host the fundraising campaign. The competition is to see which MLB team is the favorite in our community. When you donate to ALS TDI, you also submit a vote for your favorite baseball team — the amount you give is up to you, but the larger your donation, the better your team's chances of winning!
The winning team will have their pennant hung in the ALS TDI lab for the next year. The current pennant in the lab is for the Boston Red Sox, ALS TDI's hometown team (and mine).
Which team will be the team to knock them out of the lab for the next year? Or will Red Sox fans hold their spot? Make your gift and vote by June 1, 2022 at 11:59 p.m. to participate!
While the competition is sure to be fun, best of all, every gift is matched, dollar-for-dollar, up to $25,000, doubling the impact of every contribution on ALS TDI's groundbreaking work every day to find cures for ALS. Also if you live in the Boston area, don't miss this in-person fundraising event as well!
I voted for the Boston Red Sox, of course. Go Sox!
About SimpliHere
SimpliHere simplifies caregiving for those impacted by ALS and other neurodegenerative diseases. Through a mobile app and personal voice assistant, patients and caregivers can easily communicate, manage daily life, and stay connected with one another. The mission of SimpliHere is to help patients and families face the overwhelming nature of ALS by helping them to communicate basic needs, easily reach caregivers, and find comfort with other individuals sharing the same challenges. SimpliHere encourages patients and families to raise their voices and contribute valuable information to medical communities to help advance critical research on neurodegenerative diseases, including ALS – with the ultimate goal of wiping out the disease once and for all.
Learn about the SimpliHere App and personal voice assistant, Louise!