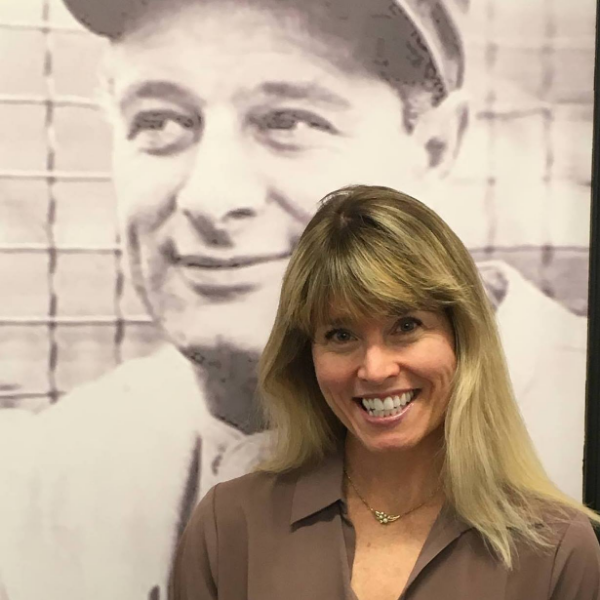 As part of SimpliHere's Advocate Spotlight Series, we sat down with Juliet Pierce, a Care Services Specialist at the ALSA Mid-America Chapter in Kansas City, Kansas.
The ALS Association is a nonprofit dedicated to raising money for research and patient services, as well as advocating in state and federal government on issues related to ALS. There are ALS Association Chapters operating across the country, each serving their local ALS communities.
From training rural hospitals in ALS patient care to matching patients with neurologists and life-changing equipment to advocating on Capitol Hill, Juliet is part of a critical team fighting ALS at the local and national level.
Juliet shared with us an up-close look at the resources her chapter provides patients, the day-to-day operations of a treatment center, and what life is like as a professional ALS warrior.
Can you tell us about the ALS Association Mid-America Chapter?
We are the ones that probably have the most direct care contact with the ALS community. We are the registered nurses and social workers who are the boots on the ground, at the bedside of ALS patients, with them until sometimes literally their last breath. We serve at least 650 families at any time in all of Kansas and Nebraska, and two thirds of Missouri. Some patients travel from Oklahoma and Arkansas and Iowa for research and our specialists. As the Mid-America chapter, we have people in urban and rural communities. And this terminal illness poses many challenges for both demographics.
We have multiple multi-disciplinary treatment centers, and a telemedicine center. We have respiratory therapists, physical therapists, research team, social worker, occupational therapist. It's one of the crown jewels of our care services. There have been studies put forth by NEALS (the Northeast ALS Consortium) that has said patients who attend a multi-disciplinary treatment center have a better quality of life, better symptom management.
Other services we provide is an equipment loan closet to provide power wheelchairs, walkers, travel wheelchairs, etc at no cost to patients. We also have communication devices. We have advocacy in Washington and locally. We have a special program and procedure for getting newly diagnosed clients into our services and clinics. We have family support group, caregiver support groups, ALS in-services with the community, education and outreach. Our goal is to do everything possible to empower these patients to live their life to the fullest, slow down the progression of the disease, and one day find a cure.
How do you help people in rural communities?
It's an ongoing challenge. We use things like telemedicine clinics which allow people to access a teladoc. The ALS neurologist is teleconferenced in from the ALS health system, and there's a team on-hand directly with the patient. The more remote you get, the less local hospices and local hospitals have resources and staffing to help. We try to provide online resources and train hospitals that are taking care of these patients. But it doesn't replace the hands-on care that's desperately needed for the activities of daily living. One of the first needs patients develop are assistance with getting up, toilet, hygiene, eating, dressing. Right now that's an out of pocket expense, and there's tremendous burden on the spouse who is typically the caregiver. So it's not resolved.
Do you have a personal connection to ALS?
No, I don't. I have been a registered nurse since 1992. It seems like my whole life's training has really groomed me to be an ALS training. I've done ER Trauma, ICU, OR, orthopedics. There's so many incredible areas to try in nursing, and I just kept cross-training.
How did you get started with the Chapter?
I literally fell into this job. I had been doing hospital-based nursing and I just wanted to get out of that very demanding, physical world. I wanted to be in a more corporate world. I've been doing this since 2013. I like to say I didn't choose ALS, it chose me. It's a community and a mission and a fight that I have fallen in love with. I want to be part of the solution. I want to see this get to a cure. It's very frustrating when I'm so solution-driven but I need to be patient.
How do you interact with patients?
I don't have to manage other staff, but we do have projects we work on, and I'm a team lead for research, resources, education and outreach. So I do a lot of representation of our Chapter, association, and cause. I use a lot of wartime references because there are so many who are impacted by this and it truly is a battle. On Mondays I go to the Kansas University clinic and see fifteen patients with ALS. That keeps my finger on the pulse and I never want to get too far from that.
What are some of your personal goals for the ALS movement?
I always like to start with the individual person with ALS experience. I never want to go too far off topic without thinking of a person specifically. So for example, I just got back from purchasing an extra special sympathy card for a gentleman I developed a good relationship with. He came from Oklahoma to the KU clinic and he and his family were so happy with the services they received that they started a chapter of their own in Oklahoma. And he just passed away. You grieve for every person who loses the battle, but there are some clients that literally take a piece of your heart or soul with them. So when I went to Washington [for the ALS Advocacy Conference), I specifically had three people in mind. I didn't have any patients with me because many of them can't afford the time and expense. So I have specific people I felt I was representing: a young woman police officer with ALS, a gentleman who was thirty-six who had served in the Army for sixteen years, and another gentleman who's had ALS for almost two years.
Typically people with ALS will pass away within two to five years. You are with them during these intimate times and they share personal secrets and fears about death and symptoms. But you're preparing for their funerals. You do everything to help them, but you start preparing yourself. I carry those people in my heart and keep their memory alive and honored.
Does that feel heavy?
Yes, absolutely. It's impossible for it not to feel heavy. The way I keep myself from despair is through a passion that I've developed for ALS research. That is truly our hope for a future for this community. I'm a team lead for research, so if anyone in our Chapter wants to know anything about cutting edge research, I spend every day looking at what's going on in that world. I'm not an expert on everything, but I'm constantly learning what's going on. Through innovation and research, that's where I find the brightness and the hope.
What is your best memory as an ALS advocate?
My daily rewards. I call them my ALS miracles. For example, my colleague just left early to hand deliver a high tech communication device and mounting system that she's giving a patient at no cost, for however long she needs. So my colleague shared with me the joyful email she received when the patient found out she was getting this gift. I have the privilege of witnessing an ALS miracle at least once a week, sometimes twice a week. Those are the daily rewards that are precious.
On a bigger scale, I loved going to Washington. I loved advocating on the hill and thinking globally about the big issues. I have enough expertise that I'm ready to push to the next level and make our services and Chapter as efficient as possible. I have lots of dreams and I'm going to keep working hard because I think it will get to the point where it will get too frustrating for me to just keep holding hands and watching these people die. And that's not to say that holding those hands is not an extreme honor, but it can take a toll, and you just naturally have to — in order to stay fresh and committed — you need to reinvent yourself in the battle to find new ways to contribute. I am always ready, willing, and able to take on a new role. The science and symptom management has become a part of my DNA. I can literally talk ALS anytime. I know it inside and out. When I first started, it was quite overwhelming when people called in with different issues. But that's no longer an intellectual challenge.
How can someone get involved in the fight against ALS?
Just keeping the conversation alive. Keeping ALS on the hearts and minds of our friends, family, businesses, legislators, and healthcare professionals. At the very least, ALS awareness is starting the conversation. Join a local Walk To Defeat ALS. Everyone can do that. If they want to take it to the next level, they can volunteer, take a class, work with their local Chapter. There are hospices that need volunteers to sit with people who have ALS and be companions for a couple hours. Be a visit therapist. This disease is all-consuming, so whatever you can bring to the table, ALS can probably utilize your skillset.
I would encourage folks, if they haven't, to get the contact information for their local ALS Chapter. There could be support and services that they are completely unaware of, and that could make all the difference in how they are living with the disease. There is so much information out there.
***
To wrap up our conversation, Juliet emphasizes for the mid-america patients, caregivers, and advocates, "Anything having to do with ALS, please call us. If we don't know the answer, we will refer you to someone who can help you."
The ALS Association Mid-America Chapter Regional office
6950 Squibb Rd., Ste. 210
Mission, KS 66202
(913) 648-2062