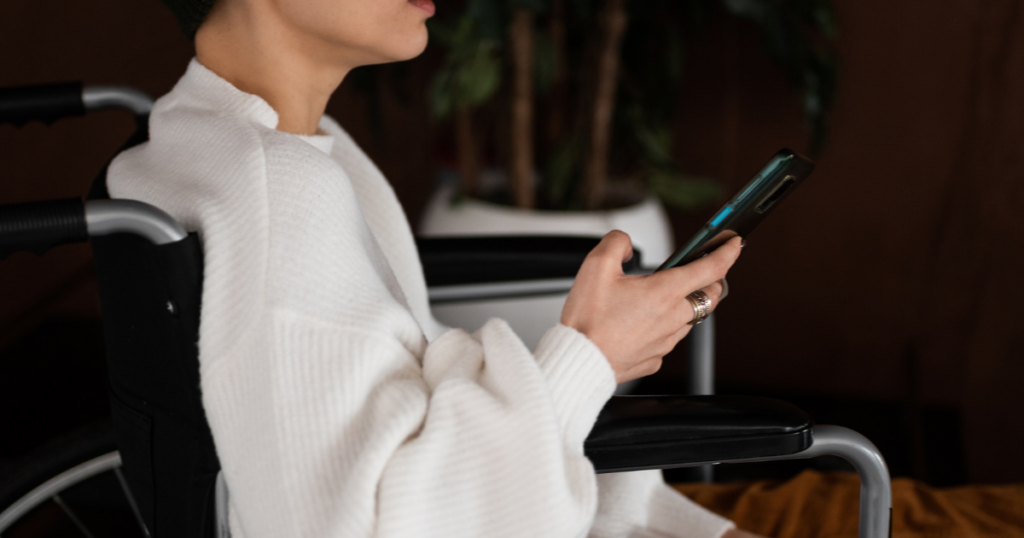 Throughout the COVID-19 pandemic, the world quickly adopted and adapted to video conferencing, smartphone apps, and other technology advances in order to communicate. To keep pace, there has been an explosion in app, device, and software development and users encounter never-ending updates to commonly used platforms. The virtual working world has moved from surviving to thriving thanks to digital technologies – including Augmentative and Alternative communication apps for ALS.
For years, patients with ALS and other speech-impeding diseases had to rely on rudimentary tools, like white boards, or the partnership of family members and caregivers trained to decipher eye blink, or gestures, for non-verbal communication. Communicating without speech is also known as Augmentative and Alternative Communication, or AAC.
In recent years, however — and particularly since the pandemic began — the smart technology world has seen an explosion in the number of apps, devices, and softwares that leverage AAC and help people living with ALS communicate with the world around them.
To help you navigate this ever-growing collection of resources, here's a look at some of our current recommendations for the latest ACC apps you might want to check out.
Avaz AAC – Free with in-app purchases on iTunes
This app uses an easy-to-navigate button model featuring pictures and words that leverage the research-based concept of "core words," which make up 80% of what we would speak during a typical day. It is customizable and includes a training module for new AAC users and caregivers.
SimpliHere App – $3.99 on iTunes
Sure, we designed this app, but it really is one of the very best (wink, wink). Through a simple interface, the app focuses on augmentative and alternative communications (one-click and voice-activated communications), connection to communities (forums, a tool to streamline communications with caregivers and families, and others), and access to valuable resources (news updates, products, and other services) to help manage daily life. The app also features Louise, a personal voice assistant, alongside a one-click option that allows patients and caregivers to request a variety of actions or ask questions related to ALS and connects users with options to voice bank.
Speech Assistant AAC – $18.99 on iTunes
This easy-to-use and customizable text-to-speech app creates categories of words and phrases and places them on buttons, which you use to create messages that can be shown or spoken. The app organizes your words and phrases and includes history for quick access to your commonly used phrases, an option to select photos from your library or symbols for your buttons, an option to record speech for voice banking and reading aloud, and offers tabs so you can keep multiple conversations going at the same time, among other features.
TD Snap AAC – $49.99 on iTunes
TD Snap is a flexible communications tool accessible via touch, eye gaze, or switch, offering clear speech output. Incorporating symbols, text/words, each page set comes with a powerful set of integrated tools to help simplify use and help communicators, caregivers, and professionals manage daily life successfully. The app can accommodate those who use scanning as their primary access method, is compatible with eye tracking devices, integrates with Google Assistant, and offers the option of purchasing an additional add-on page based on the Pragmatic Organization Dynamic Display vocabulary strategy developed by AAC expert Gayle Porter. It also includes cloud back-up and training for users and caregivers.
Sono Flex – $99.99 on iTunes
This easy-to-use, customizable AAC vocabulary app turns symbols into clear speech. Its framework combines the benefits of structure with flexibility to match individual as well as situational communication needs. Compatible with a wide range of devices, the app comes pre-loaded with thousands of symbols and allows you to customize your own using your camera and photo albums. User reviews highlight the app's unique ability to easily tailor communications for situational needs.
Proloquo2Go – $249.99 on iTunes
One of the most comprehensive AAC apps on the market, Proloquo2Go is also symbol-based and designed around the concept of "core words" making up 80% of our natural vocabulary. But it also offers a range of text-to-speech voices that sound relatively natural, with automatic conjugation and a default vocabulary of more than 7,000 items. For users with fine-motor challenges and vision impairments, Proloquo2Go offers 23 pre-programmed grid sizes and accessibility settings that support switch scanning and Apple's VoiceOver screen reader. Everything from appearance to access is customizable so you can make it your own. This app can be used on a number of devices, includes comprehensive training for users and caregivers, and allows users to switch easily between English, Spanish, French, and Dutch, and also supports bilingual use.
TouchChat HD – $299.99 on iTunes
With this full-featured, intuitive ACC app, symbols, words, phrases, and messages are spoken with a built-in voice synthesizer or by playing a recorded message. TouchChat also has a unique feature where the user can tilt their device to make the message expand to fill the screen in large letters, which allows you to communicate silently or in a noisy environment. TouchChat gives an individual the ability to navigate through page sets with buttons to speak messages.
The buttons are programmed to take actions, such as speaking a message, navigating to a different page, changing the volume, or clearing the display. The app is available in English and Spanish and is bundled with the WordPower™ series of AAC vocabularies designed by ACC expert Nancy Inman. WordPower is a word-based vocabulary that allows for easy and intuitive communication, while WordPower with Phrases incorporates phrases for easier language generation.
Learn more about the various resources for ALS patients and how SimpliHere uses augmentative and alternative communications to help both patients and caregivers.