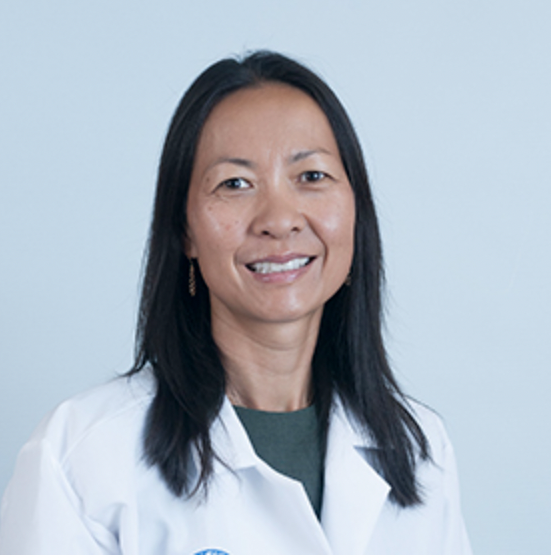 Dr. Doreen Ho is a renowned neurologist who cares for patients with ALS while simultaneously conducting groundbreaking research to find therapies and cures. We caught her during a break in the action in her role at the Sean M. Healey & AMG Center for ALS at Massachusetts General Hospital to ask about her path into the ALS field, what inspires her, and how SimpliHere supports her work and her patients and families.  
How did you first become interested in working in ALS?
I have always had a background in neuroscience from a very early stage — even in college, I was very interested in neurology, how the brain works and neuroanatomy. I was very interested in both education and psychology, and how the experience of having a disease intersects with the biology of it. When I arrived at medical school, it was a very natural fit to think about something like neurology, and in my residency, I met other physicians focused on ALS.
They inspired me: they were so passionate and dedicated to the field and the work. I had one mentor specifically who I worked with for over a decade: he was extremely committed and had pursued a lifelong career in ALS and also education. Working with him for many years was very formative and along the way I met a number of people living with ALS and their families. Ultimately, it's always been the patients and their families, and their support network, who have all inspired me in this field.
What motivates you?
It is and always has been the people living with ALS who are at the center of my work and who provide inspiration to me. We get up every day in the morning with that mission in mind to cure this disease, to help those patients and their families. Working here at the Healey Center, where I'm around such passionate and inspiring people, it is a very mission-driven journey… this guiding principle really drives the work. In ALS, some components of my work are broader, or well-defined; other things are really in the details, or the small steps along the way. But the whole pursuit is really driven by that guiding principle.
What is the most exciting research you're working on or aware of right now?
I have now been at the Healey Center for almost a year and half, and have been working on a number of studies, and one of the studies that comes to mind is the Healey platform study. It's testing multiple drugs very efficiently and trying to get results quickly… using the knowledge from the platform study to provide insights into further trials, to further inform other studies — and move the field forward. Currently, the fifth regimen, or Regimen E, is enrolling patients.
Regimen D is continuing, and we have results from Regimens A-C. Even if the result is negative in one of these studies, a lot is still learned from those results to inform further studies. In 2023, there will be more new regimens, which is exciting. To see the rapidity with which things are moving, and to be part of such an amazing team working together —and knowing that one of these regimens will be effective in slowing ALS… That's very exciting.
What keeps you up at night – what is the nut you want to crack in ALS?
I'm probably not unique among our colleagues here in that for me, it's about finding — as quickly as possible — treatments that slow ALS progression, and something that can reverse the disease process. That's what drives the work, what keeps me going, and keeps me up at night.
What advice would you give to caregivers facing a new diagnosis?
It's hard to distill advice, because caring for a patient is about forming that relationship and building trust and that relationship; it's a very individualized, holistic approach. There is not one piece of advice I'd offer, as there are different approaches that seem to work and resonate for different families and patients, it is not a one size fits all approach. Ultimately, though, the partnership between the care team and the patient is so essential. Because we're always relying on and looking for more feedback.
It's truly a partnership; it's the shared decision making that is the key to finding something that works well for that individual, be it different symptomatic treatments, FDA approved treatments, discussions, care team members, or for instance, a clinical trial, which may have a lot to offer for certain patients but is perhaps not a good fit for every patient. It really depends on the right fit for the individual patient and their family. I think if I had to distill it to one word, I'd say it's 'partnership' — between a patient and their family and the entire care team.
I would also offer general advice which is to try to really engage with us and utilize the care team as much as possible to partner in the journey together. Hopefully, we can provide a lot of support that way as well.
Why do you feel hopeful about the future for ALS treatment and caregiving?
I work alongside people in many different roles, all of whom are so extremely committed to this field. During the time that I have with my patients and families, I get a glimpse of what they're going through. It is extremely difficult, and the incredible strength that they have is very much an inspiration to me. I think that is really the source of hope for me, that strength in those living with the disease and the way research is moving forward to find treatments.
How does SimpliHere support patients and their families as well as caregivers like you?
SimpliHere can help coordinate the care team and patient. We all have very different roles in the multidisciplinary clinic that are essential and important and very different. We often have a respiratory therapist, speech/ language pathologist, nutritionist, social worker, pulmonologist, ALS physician, PT, NP, RN, research coordinator … there's this entire team with the patient at the center, helping the patient and the family to address needs that are very dynamic. A decision could be made at one point about a patient's care, and a few months later it could be a totally different decision we make together. ALS care is a dynamic thing. Any communication facilitated between those two teams, between them, becomes very essential.
SimpliHere can be a very effective support in the dynamic collaboration of those two teams. This app facilitates communication which can be essential. Within our care team, we work very hard to facilitate that communication, and SimpliHere is a wonderful tool. It could help prevent the isolation and miscommunication that may occur in ALS. I've talked to families about the app. it's a great thing for caregivers to be able to offer. SimpliHere shares that focus and was designed around always keeping the patient's needs and wants at the center.